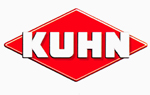 Kuhn is one of the largest agricultural machinery manufacturers in the world employing 4,500 people worldwide.
The Kuhn range of products have been designed to meet all farming requirements in terms of profitability, quality of work and time saving.
More than ever, Kuhn deploys its dynamism, for serving Agriculture better.  They continuously invest, in particular by extending their production sites and modernizing their working practices.  Their teams innovate and offer new products so that Agriculture benefits from new techniques in developing services, they know that they will make work easier.
Kuhn's large product range is as follows: ploughing , soil preparation, seeding, landscape maintenance, shredding, hay/silage making, baling, wrapping, bedding and feeding and many more.
Visit the Kuhn Website for details about their products